Tailgates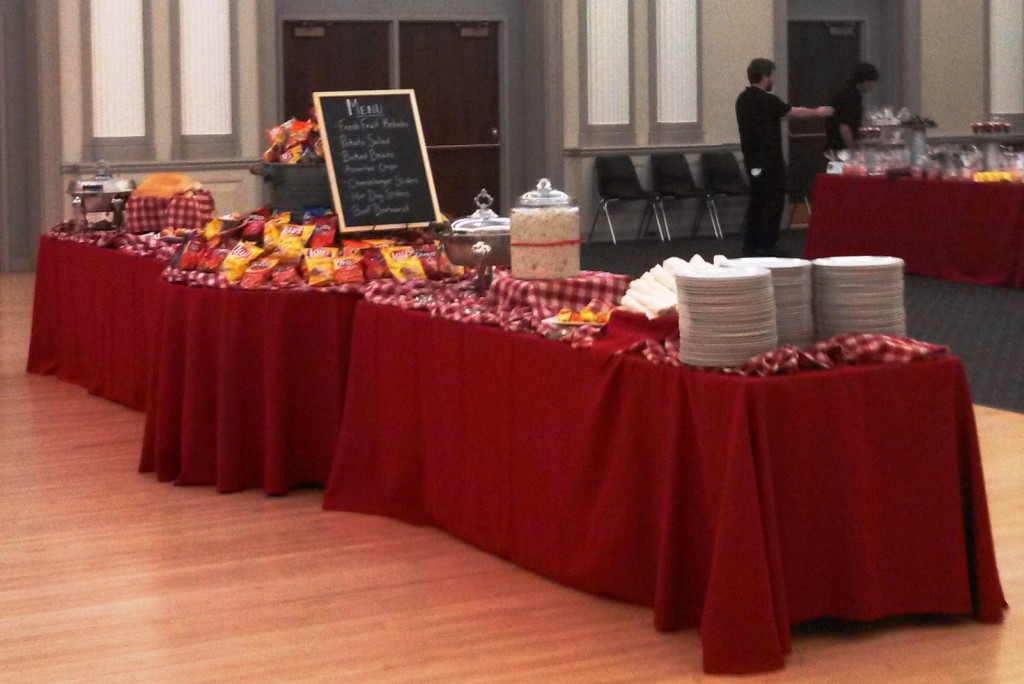 Break new ground at your tailgate.  Pick from our famed food selections or work with our executive chef to create a game day menu that will leave your guests cheering!  Just blocks from Memorial Stadium, our exclusive Downtown location, full bar, and projector for optimal game day viewing, make Chez Hay the place to be. Watch the game on the screen and the weather out the window!
It's finally here! The day of the BIG game! It will be a long day, so allow Chez Hay to take care of feeding your tailgating friends. Whether you want something to tide you over in the early morning or a package to make the tailgate next to you jealous, we have it all. You know the athletes playing do not skimp on their food; why should you?
Menus
Tailgate Packages
Lil Red: $12 per person
Fried Chicken
Bratwurst
Jalapeno Cornbread Muffins
Prosciutto Baked Black Beans
Cole Slaw
Hungry Herbie: $13 per person
BBQ Beef Brisket with Buns
Con Queso with Chips
Chicken Wings with Honey Mustard Sauce
Fresh Fruit & Cheese Platter
Meatballs - Red Coconut Curry Sauce
Go Big Red: $15 per person
Beef Tenderloin with Cocktail Buns & Creamy Dijon Sauce
Trio of Salsas with Chips
Chicken Satay with Peanut Dipping Sauce
Ceviche-Style Shrimp Cocktail
Roasted Vegetable Platter with Dipping Sauce
2014 Tailgate Specials
Nachos: $5.00 per person
Tricolor tortilla chips topped with 3 kinds of cheese, Black beans, jalapenos, green onions, tomatoes, black olives, chopped onions and chicken breast.
Add chopped turkey breast, shredded pork loin, sliced beef tenderloin or shrimp for $.75 more per person.
Nebraska Broil: $7.50 per person
Chaffer full of broiled ears of corn, bratwurst, chicken wings, red potatoes and red onions.  Served in an herbed butter broth with cornbread muffins and buttermilk biscuits on the side.
Sliders: $2.75 per slider
Blue cheese and beef served with roasted red onions on pretzel slider
Turmeric chicken sliders served with pickled peppers on slider bun
Salmon caper slider with Portuguese slaw.Shredded pork slider - shredded pork loin served with a wild turkey BBQ sauce.
Italian slider - capacolla, prosciutto, provolone, mozzarella, shredded romaine sauteed onions and garlic and marinara served on foccicca bread.
Meatballs:
Salmon meatballs served in a lemon thyme sauce or a Moroccan sauce (chickpeas, tomatoes chili and honey): $8.00 per person
Beef Meatballs served in a Spicy Adobo beer sauce: $4.50 per person
 Please ask about our special pricing for food and beverage packages!
Price does not include sales tax and 20% service charge
Prices Subject To Change Without Notice